CALENDRIER DE L'AVENT - AVENT CALENDAR
Comme chaque année, nous vous proposons un calendrier de l'Avent. Tous les jours du mois de décembre avant Noël, venez retrouver votre produit à 1.00 euro seulement. Vous n'avez qu'à cliquer sur le jour correspondant pour découvrir le plaisir du jour.
Like every year, we made an Avent Calendar. Come everyday in december and discover the 1.00 euro product and enjoyed !!!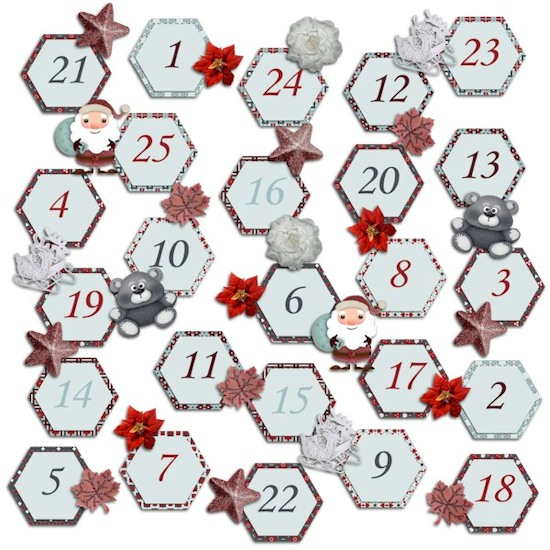 A 1.00 euro seulement aujourd'hui !!
Only today at 1.00 euro !!!!!!!!!!


---
---
CHALLENGES
Les nouveaux challenges sont en place..rejoignez nos designeuses et montrez-nous vos pages pour gagner de magnifiques cadeaux de la part d'Aurélie Scrap, Didou, Mariscrap, Leaugoscrap, Happy Scrap Art, Sarayane, Thrifty Scrap et S.designs!!!
N'oubliez pas de venir voter pour les gagnantes des challenges précédant
New challenges are on...join us and show us your beauties, you may win some amazing products from
Aurélie Scrap, Didou, Mariscrap, Leaugoscrap, Happy Scrap Art, Sarayane, Thrifty Scrap and S.Design
!!! Don't miss to come and vote for the previous challenges.
---
---
En manque d'inspiration...??? Retrouvez de superbes pages dans la
galerie Scrap From france
: cette page m'a beaucoup plu par sa simplicité et la photo choisie, bravo!!!
Not get inspired??Check
our gallerie
to fell your mojo come back : this page is adorable with a great simplicity and a fabulous pic!!!
Page de Beaute
kit "Hello Winter" by pat's scrap
---
---
Mediterranka
vous offre son album
"Vintage beauty"
pour tout achat de plus de 5.00 euros en boutique...faites-vous plaisir. A rajouter directement depuis votre panier.
Mediterranka
o
ffer her kit
"Vintage beauty"
for a purchase of 5.00 euros on store....don't hesitate. Add it directly from your Cart.
Don't forget that we have an excellent reward point system !!!!
N'oubliez pas que nous avons un système de points très avantageux pour nos clientes !!!!
---
---
Toute l'équipe des designeuses de Scrap From France vous remercie pour votre fidélité....bonne semaine à vous.
All the designers of Scrap From France thank you for your loyalty....great week everyone.