Hello!
It's already 5th ScrapBird Birthday!
We would like to thank all our customers for being with us another year!
ScrapBird super amazing designers:
AADesigns
Arizona Girl
Baby Cakes Scraps
Country Liv's Graphics
Crescent Moon Designs
Kittyscrap
LeaUgoScrap
Mamrotka designs
Mariscrap
Tiny Dancer Posers
have put together another awesome collaboration kit!
Celebrate with us and get little part kit and collect a great kit "Wildflower"!
All parts are avalaible at December 10 - December 30
Here is my part: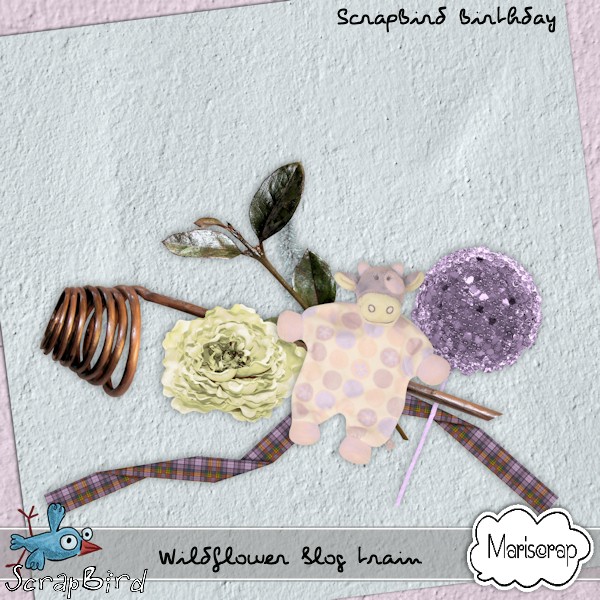 DOWNLOAD
and here is list ScrapBird designers:
AADesigns:
http://aadigitalart.blogspot.com.br/
Arizona Girl:
http://scrapingarizonagirl.blogspot.com/
Baby Cakes Scraps:
http://babycakesscraps.blogspot.com/
Country Liv's Graphics:
http://countrylivs.blogspot.com/
Crescent Moon Designs:
http://www.crescent-moon-designs.blogspot.com/
Kittyscrap:
http://kittyscrap.blogspot.fr/
LeaUgoScrap:
http://lea-ugo-scrap.over-blog.com/
Mamrotka designs:
http://mamrotka.eu/
Mariscrap:
http://mimi-mariscrap.blogspot.fr/
<--------------HERE YOU ARE-------------
Tiny Dancer Posers:
http://tinydancerposers.blogspot.co.uk
Bon scrap à tous et toutes. N'oubliez pas le petit commentaire qui fait toujours plaisir. Great scrapping. Don't miss to post some comments...I love them!!